Whitby - Downtown Whitby North
---
Trade Area Population:
37,364
Trade Area Median Age:
57
Trade Area # of Households:
14,460
Trade Area: Percentage with University Degree:
20.80%
---
Downtown Whitby is more than a city core—with its unique charm, historic architecture and diverse mix of local businesses it truly is a destination! The community is filled with shops, restaurants, spas, personal services and entertainment venues. Downtown is also where you will find weekly farmers markets May through October, and a variety of arts and cultural events all year long that make the streets of Downtown Whitby a wonderful place for everyone to explore.
The My Main Street Local Business Accelerator Program recognizes that main streets are an integral part of the community and its primary focus is to offer support to new and existing brick-and-mortar shops that form the heart of Downtown Whitby. Business owners are encouraged to reach out to your local Whitby Business Ambassador to find out how this program may be of assistance to you.
JOIN US FOR THE UPCOMING EVENT:
On Tuesday, May 31, 2022, your local Whitby My Main Street Ambassadors will share information about the My Main Street program as well as insights on Whitby's Community Profile, and how to use these data-driven analytics to help with business and community recovery after Covid-19.
Topics covered include:
Information about the My Main Street program, who can participate and how to get involved
Valuable insights from Whitby Community Profile developed with Environics Analytics to help business post Covid-19 recovery
Understanding demographics (who is buying products/services) and psychographics (why they are buying products/services) of your local Mainstreet community
Key trends in market research on online shopping attitudes and customer loyalty
Practical application of data-driven analysis to help promote, manage and grow your business
While the event is free, registration is required: mMornings (whitbychamber.org)

---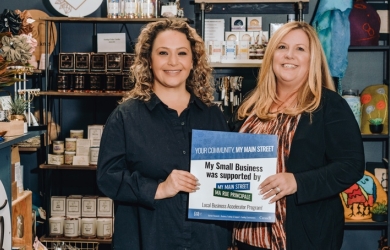 Whitby's Mary Street was a hidden strip of Victorian houses with wraparound verandas …