My Main Street helps Markham's Bloom Flowers and Design Grow
---
---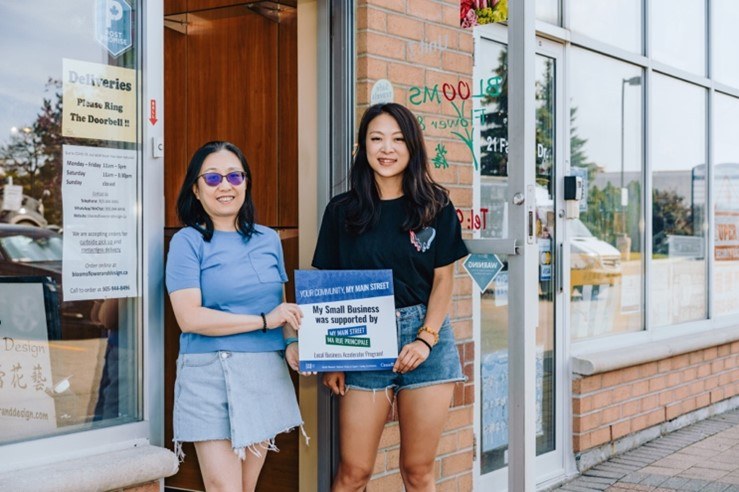 Photo by: David Simon, Sandbox Photovideo (Left:Marie Kan Right: Simin Cen)
As a part-time wedding planner, Simin Cen always envisioned opening a decor and flower shop, somewhere she could connect with the people she was planning events for, while also delving deeper into the world of flower design. "Just before COVID-19 happened, I went to look at a space," says Cen. "But I had to pause the plan."
Cen got a second chance when she heard from the owners of Blooms Flower and Design in Markham were looking to take a step back from the business. "Marie was one of the vendors I worked with. She's a florist with 25 years of experience and whatever I asked her to do, she'd make the magic happen for me," says Cen. "She's amazing. We've been working with each other for a few years."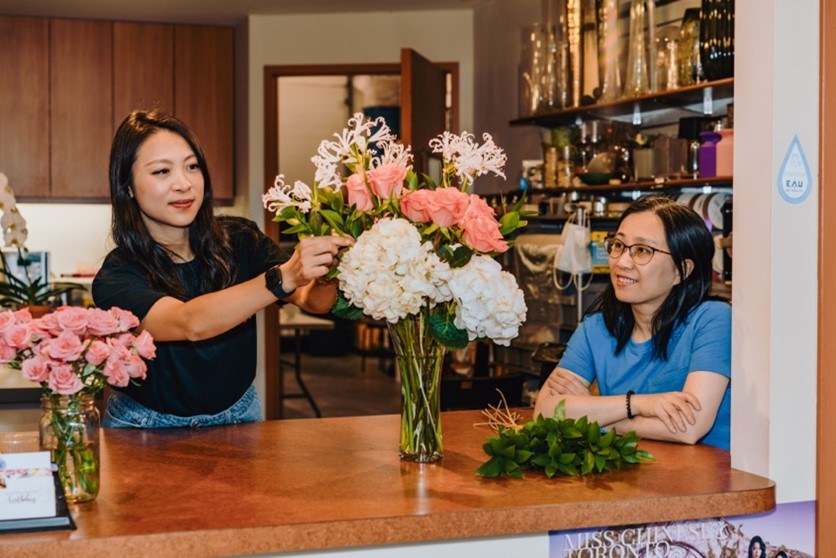 Photo by: David Simon, Sandbox Photovideo (Left: Simin Cen Right:Marie Kan)
Cen expressed interest in taking over Blooms Flower and Design and the pair made a deal – Marie would stay on to help with the transition while Cen started to shape the business into her own. "I am actually very interested to learn," says Cen, who admits it's mostly gut instinct and taste instead of experience guiding her approach to floral design. "I have imagination, but my skills need some practice." Her ambition is to make Blooms Flower and Design a "one-stop-shop for floral, wedding planning and event planning."
When Cen got involved with the business, the former owners were working with Sonia Chow, the My Main Street Ambassador for Markham. The My Main Street Local Business Accelerator program aims to revitalize business communities through hands-on support. The program is funded with a $23.25-million Government of Canada investment through the Federal Economic Development Agency for Southern Ontario (FedDev Ontario) and delivered by the Economic Developers Council of Ontario (EDCO). "When I spoke with Simin, she had so many ideas for how she's going to grow and sustain the business," says Chow, who helped the new owner re-apply for the non-repayable contribution.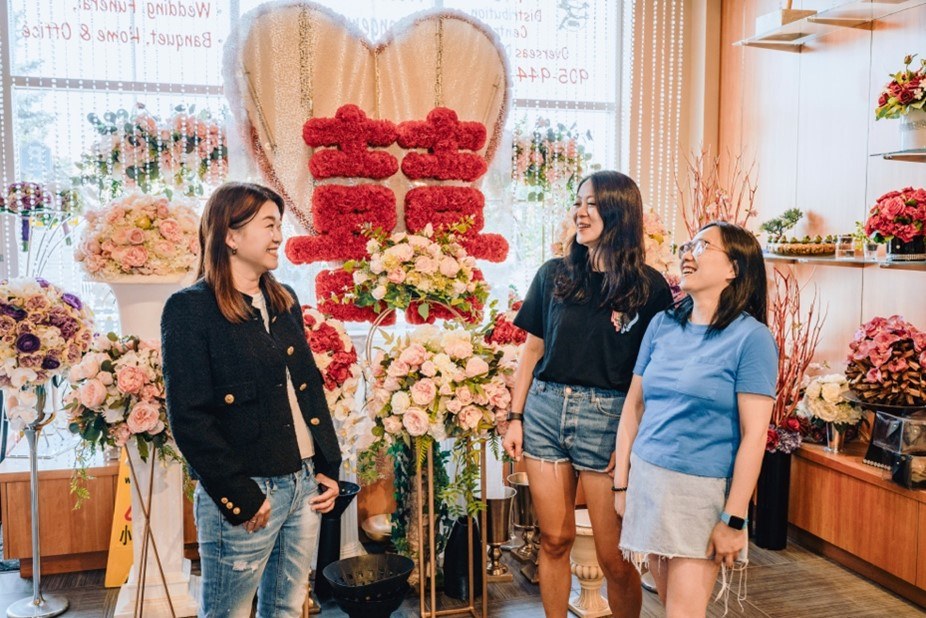 Photo by: David Simon, Sandbox Photovideo (Left: Sonia Chow Center: Simin Cen Right: Marie Kan)
The pair sat down to go through My Main Street's in-depth market research on demographics, interests and social media use in Markham, specifically Blooms Flower and Design's business area to help guide Cen's strategic vision for the business.
The data showed a heightened appetite for events and socializing in her area, something Cen says she hopes to capitalize on by prioritizing events and investing in her marketing efforts. The report also pointed out that around 84 percent of potential customers in the trade area use email for information gathering. "This gives me the strong belief and good reference that I should put resources on better website design, e-commerce and digital marketing and promotions," adds Cen. "I want to create a very good online shopping experience and then use social media to reach more customers."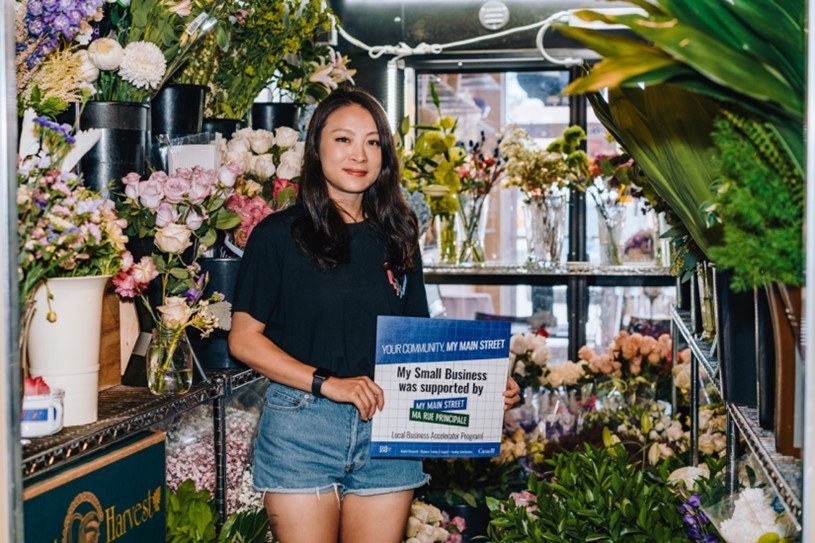 Photo by: David Simon, Sandbox Photovideo (Simin Cen)
Blooms Flower and Design plans to use a large portion of the $10,000 non-repayable contribution received through My Main Street to invest in marketing efforts, including a new website and hiring a marketing agency to sharpen the business' social media presence.
Cen says she feels fortunate to have taken over a business with a built-in, loyal customer base, but the marketing will help her build the business she knows it has the potential to be by leaning into the event planning side and reaching customers in new ways, like a flower subscription service or flower design workshops.
Cen is also investing in a new facade for the shop, something Chow says will build on Blooms Flower and Design's legacy and bring new customers through the door. "Something to attract more people," says Chow. "She's updating Blooms Flower and Design's image to something that is more stylish."
About My Main Street
My Main Street is a $23.25-million investment by the Government of Canada through FedDev Ontario to support the recovery and revitalization of main streets and local businesses in southern Ontario. The Canadian Urban Institute and the Economic Developers Council of Ontario have partnered to deliver My Main Street through two program streams. Learn more at www.mymainstreet.ca.
About FedDev Ontario
For 13 years, the Government of Canada, through FedDev Ontario, has worked to advance and diversify the southern Ontario economy through funding opportunities and business services that support innovation, growth and job creation in Canada's most populous region. The Agency has delivered impressive results, which can be seen in southern Ontario businesses that are creating innovative technologies, improving productivity, growing revenues, creating jobs, and in the economic advancement of communities across the region. Learn more about the impacts the Agency is having in southern Ontario by exploring our pivotal projects, our Southern Ontario Spotlight, and FedDev Ontario's Twitter, Facebook, Instagram and LinkedIn.