Clarkson Village's Turtle Creek Cards and Gifts hits reset button with help of My Main Street
---
When Satinder Ghotra came across Turtle Creek Cards and Gifts in a Clarkson Village plaza, she instantly saw the business' potential. The shop had been open for 15 years—a community staple selling cards and gifts to the steady stream of Mississaugans coming in for the Canada Post outlet at the back. But its owner was ready to exit the business.
"I was looking at the location and the potential there," says Ghotra. So, in February 2022, she and her husband, Manmohan, bought the business. In essence, it's what she's spent the last decade doing—seeing potential in businesses and building them back up. But she's quick to note it is instincts, not training, that has gotten her here.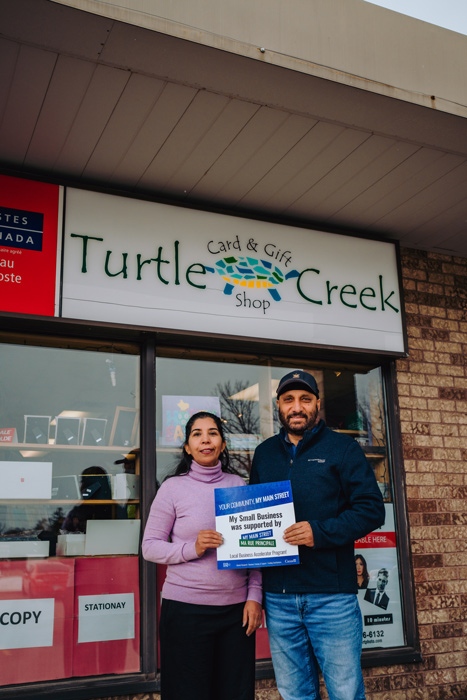 Photo by: David Simon, Sandbox Photovideo (Left: Satinder Ghotra, Right: Manmohan Ghotra)
Ghotra, an accountant by trade, took a role at Walmart when she immigrated to Canada, which would ultimately shape the way she saw the retail experience. "I learned everything: how they deal with customers, how they display the items, how everything runs. That was my training." Within five years, she knew she wanted to run a business of her own, so she bought a rundown gas station in the countryside and turned it into a successful Hasty Market.
She sold her Hasty Market last year to buy Turtle Creek Cards and Gifts. However, she knew purchasing the business was just the start. The inventory had become dated, and the store was in need of modernization. Around the time she was planning out how to tackle the renovation, she connected with Sayyeda Ebrahim, the My Main Street Ambassador with the Local Business Accelerator Program in Mississauga.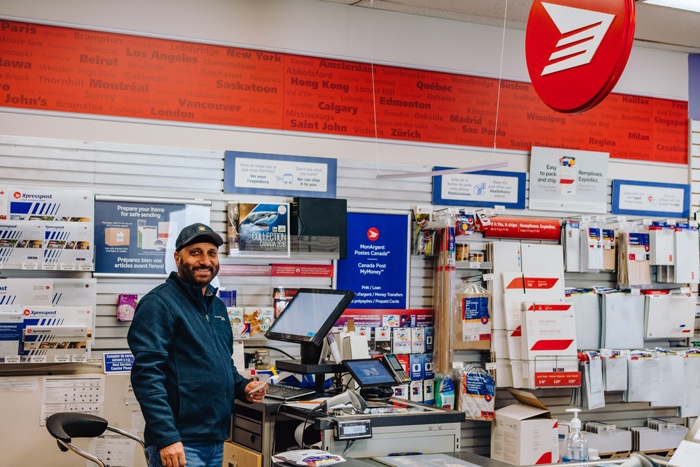 Photo by: David Simon, Sandbox Photovideo
Ebrahim told the new Turtle Creek Cards and Gifts owners about the program, which aims to revitalize business communities through hands-on support and is funded with a $23.25-million Government of Canada investment through the Federal Economic Development Agency for Southern Ontario (FedDev Ontario) and delivered by the Economic Developers Council of Ontario (EDCO).
Ebrahim says the $10,000 non-repayable contribution piqued their interest. "They were just so adamant and had so much determination to turn the business around," says Ebrahim. The Ghotras had already started stripping the walls and carpet to clean it up but had run out of funds to press onwards. Ebrahim says My Main Street's in-depth market research on the demographics, interests and social media use in Clarkson Village showed that the business's target market was very much interested in the type of services it was offering. "Satinder was really excited to be able to understand that there is a need for a business like this and how to change it so that she was getting more customers," says Ebrahim.
Using the funding, Ghotra was able to bring in a higher quality line of greeting cards and new shelving to make the shopping experience more attractive. "The market research showed that people appreciate brand names and would likely purchase them," says Ebrahim. They also earmarked funds to invest in a POS system, something validated by the market research's suggestion that people in their target market were interested in technology. It helped to speed up purchases for customers and reduce wait times. Ghotra says being able to invest $10,000 into the business felt like a "reset button."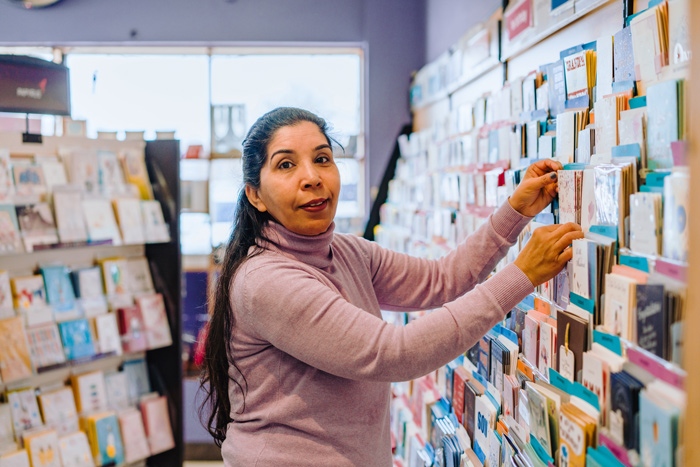 Photo by: David Simon, Sandbox Photovideo
Going forward, Ghotra plans to continue to expand the business's offerings. They've brought in toys, jewelry, school supplies, gift bags and gift items for everyday occasions. They've also recently added a photocopy, fax and passport photo service. "We thought we'd have to do it little by little," says Ghotra. "(But) everything was aligned. I feel so fortunate."
About My Main Street
My Main Street is a $23.25-million Government of Canada investment through the Federal Economic Development Agency for Southern Ontario to support the recovery and revitalization of main streets and local businesses in southern Ontario. The Canadian Urban Institute and the Economic Developers Council of Ontario have partnered to deliver My Main Street through two program streams. Learn more at www.mymainstreet.ca.
About FedDev Ontario
For 13 years, the Government of Canada, through FedDev Ontario, has worked to advance and diversify the southern Ontario economy through funding opportunities and business services that support innovation, growth and job creation in Canada's most populous region. The Agency has delivered impressive results, which can be seen in southern Ontario businesses that are creating innovative technologies, improving productivity, growing revenues, creating jobs, and in the economic advancement of communities across the region. Learn more about the impacts the Agency is having in southern Ontario by exploring our pivotal projects, our Southern Ontario Spotlight, and FedDev Ontario's Twitter, Facebook, Instagram and LinkedIn.