Orangeville's Branching Out Support Services uses My Main Street funding to kickstart CommonFare Kitchen for the neurodiverse
---
---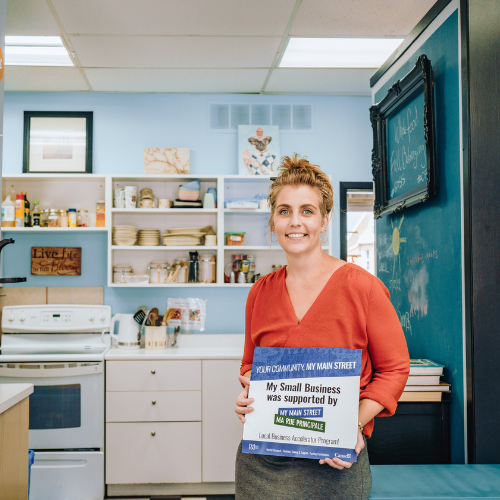 Photo by: David Simon, Sandbox Photovideo (Kimberly Van Ryn,)
Kimberly Van Ryn launched Branching Out Support Services in Orangeville in late 2019 to help integrate neurodiverse people into the community by providing creative, community-based care. Her organization offers a variety of services for individuals with developmental differences and their caregivers, including day services and one-to-one respite support. With group programming as a major philosophical driver, Van Ryn wanted to provide participants not only social and recreational activities, but also the opportunity to contribute through paid work. "Of course, COVID-19 overtook us four months after we opened our doors," laments Van Ryn.
Despite the setback, Branching Out Support Services continued onwards, pivoting and reshaping programming to offer respite until the organization could get back on track.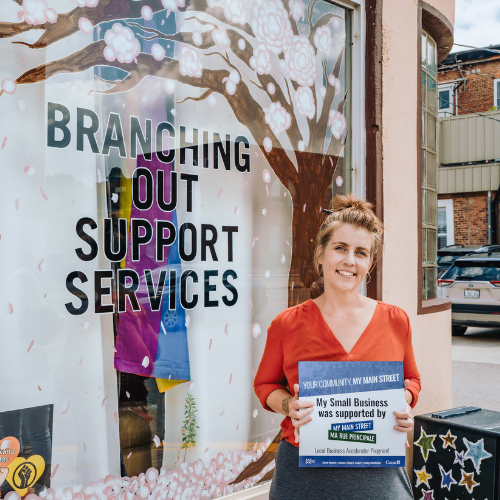 Photos by: David Simon, Sandbox Photovideo (Kimberly Van Ryn)
As part of Branching Out Support Services' post-COVID recovery, Van Ryn got thinking about how to have the most impact using the organization's space, the idea for CommonFare Kitchen was born.
CommonFare Kitchen encapsulates everything Branching Out Support Services set out to achieve – creating opportunities for neurodiverse people to build new skills while getting paid to do so. The first stream of programming is the granola social enterprise, which prepares and sells granola products to the public and at markets within the community. "Participants are practicing skills on site here using the systems that we've developed for neurodiverse people to be able to read recipes, learn skills and make food," Van Ryn says. The recipes are made for people who understand communication differently and include visual cues and colours to help participants carry out the tasks.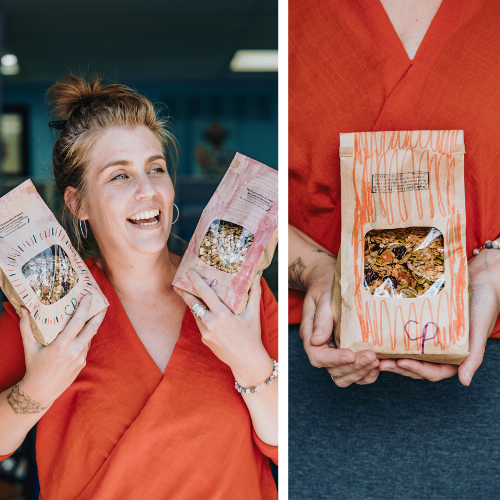 Photos by David Simon, Sandbox Photovideo (Kimberly Van Ryn)
The new business received funding from the My Main Street Local Business Accelerator program, which aims to revitalize business communities through hands-on support. The program is funded with a $23.25-million Government of Canada investment through the Federal Economic Development Agency for Southern Ontario (FedDev Ontario) and delivered by the Economic Developers Council of Ontario (EDCO).
Christine Hann, Main Street Ambassador with the Town of Orangeville, says she was inspired when she heard about what Branching Out Support Services was doing and knew she wanted to help. "I thought this would be a perfect opportunity for the My Main Street Local Business Accelerator program to help a start-up business like the CommonFare Kitchen. The funds helped to support building the space into a production-ready kitchen."
Thanks to the $10,000-non-repayable contribution received through My Main Street, CommonFare Kitchen has now been producing and selling granola for about three months, employing two neurodiverse people up to four hours a week. "That is such a massive success for us," adds Van Ryn, reflecting on the important social investment this funding has had as well.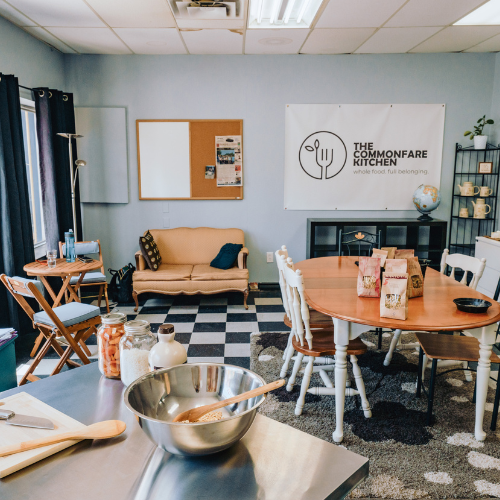 Photos by David Simon, Sandbox Photovideo
Branching Out Support Services was also able to tap into My Main Street's in-depth market research on the demographics, interests, and social media trends in Orangeville to develop a series of community workshops offered by CommonFare Kitchen. The research identified that its key target market was interested in local products and trying new things. "(The Market Research) was really influential in helping us to design our workshops because we looked at the income status of people, what they're into, what they're doing on the weekends … those kinds of things," says Van Ryn.
As a result, the business has launched a workshop for people with higher support needs to learn skills such as independent cooking and how to use kitchen tools and equipment. "And then we have general workshops, which are more likely to happen in the evening and have titles like Mexican Fiesta or Learn How To Make Bread that are open to the entire community," says Van Ryn.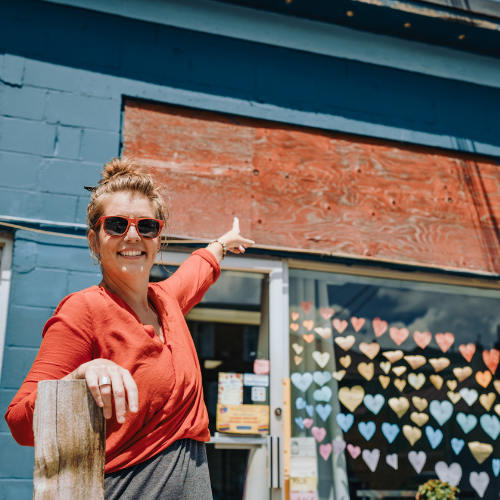 Photos by: David Simon, Sandbox Photovideo (Kimberly Van Ryn)
In a lot of ways, CommonFare feels like just the beginning to Van Ryn. "I do think in a way we're trailblazing right now because we do all the work of a charitable non-profit, but we do not have that status nor are we working towards that status. So we've busted a bit of a box open," she says. "With the right training and support, this could be done in every small community across the province."
Written by: Andrew Seale