Port Colborne's Lucky Thai uses My Main Street funding to find a new recipe for takeout success
---
---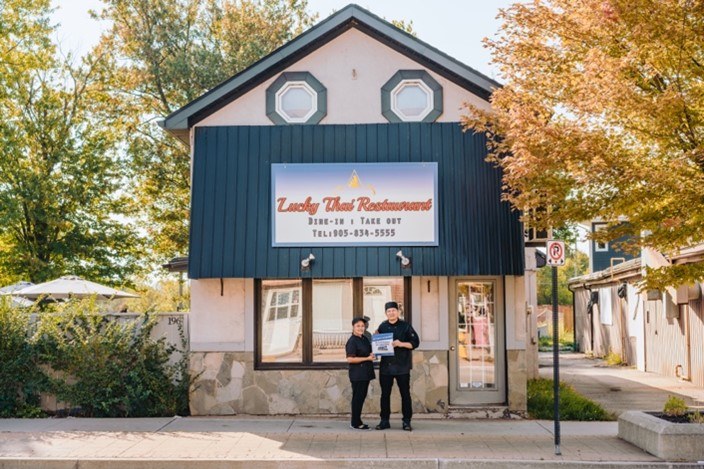 Photo by: David Simon, Sandbox Photovideo (Left: Helen Smanpharb Right: Prawat Laosomboon)
There's something fitting about the name of Port Colborne restaurant Lucky Thai. Despite opening in 2019, just a few months before COVID-19 forced businesses across the country into lockdown, the Thai restaurant found the silver-lining opportunity in to-go dishes. Lucky Thai owner Prawat Laosomboon quickly ramped up the takeout side of his business, focusing his menu on take-out-friendly dishes and investing in an online ordering system.
It was an education in uncertainty, especially for a first-time business owner like Laosomboon who'd worked in restaurants but never run one. With his head down, he pushed through the string of lockdowns. "This is my first business. Business is really tough," he says. "You have to learn to get around all the problems, but it has been a very good experience, and I'm happy doing it."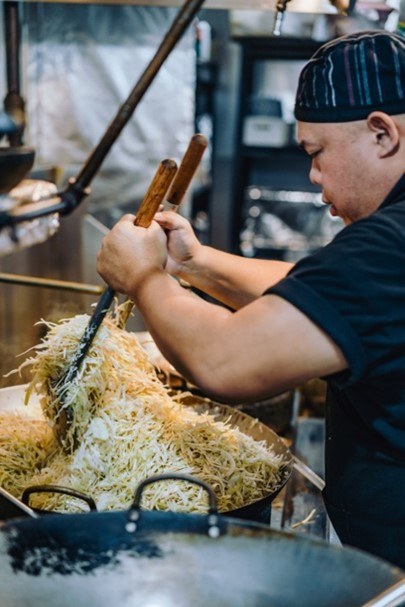 Photo by: David Simon, Sandbox Photovideo (Ananta Jarupondumrong)

The response by the community has been positive and, two years in, Laosomboon feels like a takeout staple for residents. In a way, it's validation for the Lucky Thai Owner who says he moved his family to the lakeside community for the purpose of opening the business. "I'd driven everywhere around southwestern Ontario when I spotted this little town and thought it was a very nice city and a good size for starting the restaurant," explains Laosomboon.
Olga Loeffen, My Main Street Ambassador for the City of Port Colborne, says she was struck by Laosomboon's resourcefulness when she met him. "He's very much interested in finding ways to grow his business." Loeffen connected with the Lucky Thai owner through the My Main Street Local Business Accelerator program, which aims to revitalize business communities through hands-on support. The program is funded with a $23.25-million Government of Canada investment through the Federal Economic Development Agency for Southern Ontario (FedDev Ontario) and delivered by the Economic Developers Council of Ontario (EDCO). "He reached out to me, actually," says Loeffen. "He's been very responsive to the program and suggestions on how to grow his business."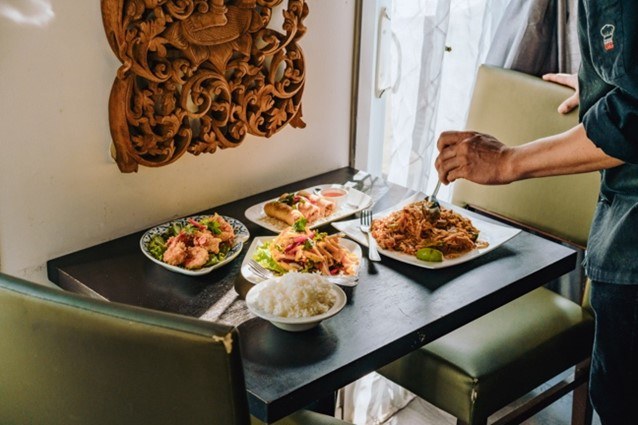 Photo by: David Simon, Sandbox Photovideo
Lucky Thai spent the first summer of the pandemic investing in its patio and outdoor space to get ready for indoor dining. "The patio space is phenomenal," says Loeffen. "But, ultimately, his takeout option is his bread and butter." Since opening, the business says around 80 percent of its clients are walk-in or online orders for takeout. Using My Main Street's in-depth market research on demographics, interests and social media use in Port Colborne, Laosomboon discovered that around 45 percent of the population in Lucky Thai's area prefer takeout to dining in.
Loeffen says that Laosomboon is tech-savvy and built his own website, but he's also been using a food delivery service that takes a "pretty substantial portion" of each order as a surcharge, cutting into his revenue. Using part of the $10,000 non-repayable contribution received through My Main Street, Laosomboon is looking to add eCommerce to his site to recapture that revenue. He is also focusing on Facebook marketing, which nearly 83 percent of residents in the business' catchment area currently use,according to the market research report.
When you get a non-repayable contribution, you want to get the most out of it, says the restaurant owner. "You need to spend smartly."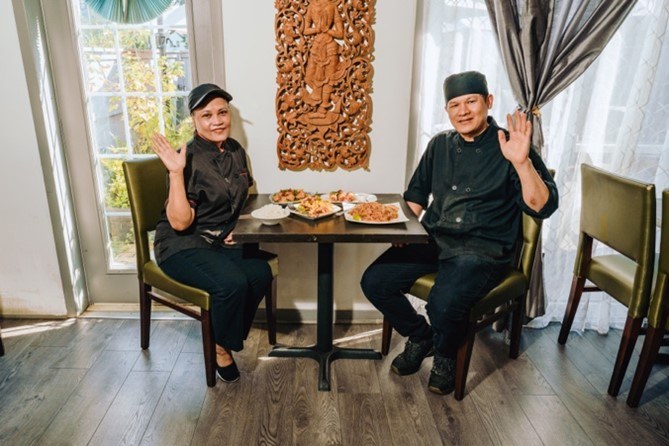 Photo by: David Simon, Sandbox Photovideo (Right: Prawat Laosomboon Left: Helen Smanpharb)

Laosomboon says he plans to use some of the non-repayable contribution to invest in new equipment and upgrade old equipment to help meet the pace of takeout and dine-in demands. The next step is getting a new sign for Lucky Thai to really establish the restaurant—another response to the market research data said that indicated that in addition to takeout, people are looking forward to the dining experience again.
Lucky Thai is a new restaurant in an area that's also new for Laosomboon, making the market research critical insights. "He's a great example of a business owner who's a go-getter and really wanted to take advantage of the My Main Street program," says Loeffen.
About My Main Street
My Main Street is a $23.25-million investment by the Government of Canada, through FedDev Ontario to support the recovery and revitalization of main streets and local businesses in southern Ontario. The Canadian Urban Institute and the Economic Developers Council of Ontario have partnered to deliver My Main Street through two program streams. Learn more at www.mymainstreet.ca.
About FedDev Ontario
For 13 years, the Government of Canada, through FedDev Ontario, has worked to advance and diversify the southern Ontario economy through funding opportunities and business services that support innovation, growth and job creation in Canada's most populous region. The Agency has delivered impressive results, which can be seen in southern Ontario businesses that are creating innovative technologies, improving productivity, growing revenues, creating jobs, and in the economic advancement of communities across the region. Learn more about the impacts the Agency is having in southern Ontario by exploring our pivotal projects, our Southern Ontario Spotlight, and FedDev Ontario's Twitter, Facebook, Instagram and LinkedIn.