Ruqayya Oud Perfumes finds ingredients to success with help from My Main Street
---
---
Tucked down a side street in Cooksville, a city block away from Hurontario, Rakiya Muftau Abdullahi of Ruqayya Oud Perfumes carefully blends oils into something new and peculiar. The walls are arranged with rows of bottles, each fragrance unique and handmade by Abdullahi. But it's the bottles themselves that catch your eye.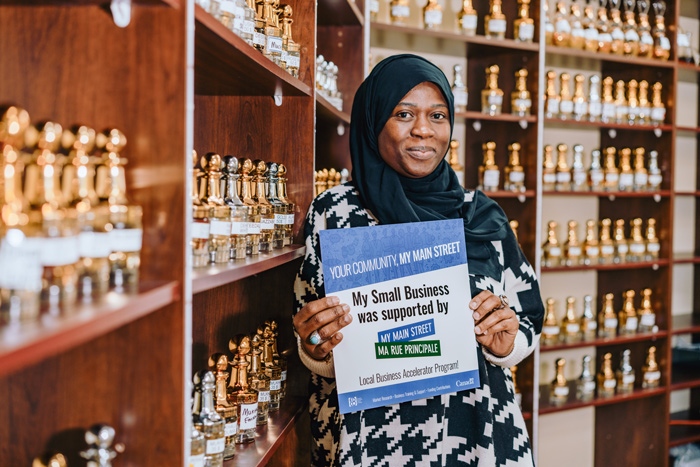 Photo by: David Simon, Sandbox Photovideo (Rakiya Muftau Abdullahi)
"If I go to like an event or a bazaar, the first thing people see is that bottle," says Abdullahi. "They don't even see the contents yet inside the bottle." To the perfume maker, the uniqueness of the oils she uses demands an equally unique bottle. That attention to presentation is as vital as the ingredients themselves. Abdullahi's concoctions are free of harsh chemicals and her cosmetics line uses organic ingredients. "It's a hundred percent organic, no chemical content, no preservatives, nothing," she adds.
That was always the intention of the brand, explains Abdullahi, she wanted to create something that was environmentally conscious. Formed in Dubai in 2014, Ruqayya Oud Perfumes moved to Cooksville, a neighbourhood in Mississauga, during the pandemic in 2021.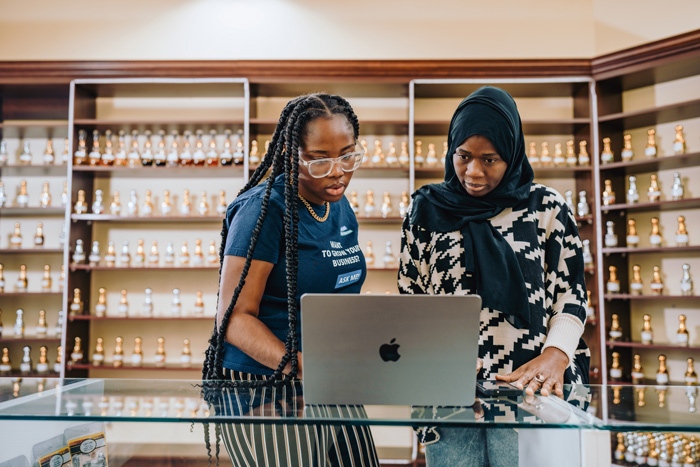 Photo by: David Simon, Sandbox Photovideo
(Rakiya Muftau Abdullahi and Emmanuela Okon)
While looking for digital support services, Abdullahi connected with Emmanuela Okon, a My Main Street Ambassador for the My Main Street Local Business Accelerator program in Mississauga. The My Main Street program aims to revitalize business communities through hands-on support and is funded with a $23.25-million Government of Canada investment through the Federal Economic Development Agency for Southern Ontario (FedDev Ontario) and delivered by the Economic Developers Council of Ontario (EDCO).
Drawing from My Main Street's in-depth market research on the demographics, interests, and social media use in Cooksville, Abdullahi and Okon laid out a series of goals for the perfume maker: prioritize eco-friendly packaging, create brand awareness through lead generation online and in-store, improve brand storytelling, and improve business operations efficiency and productivity​. "I love working with her because of her willingness to learn and just adapt to things," says Okon. "She's very open to feedback and just trying to improve the business because she knows there's only so much she can do herself."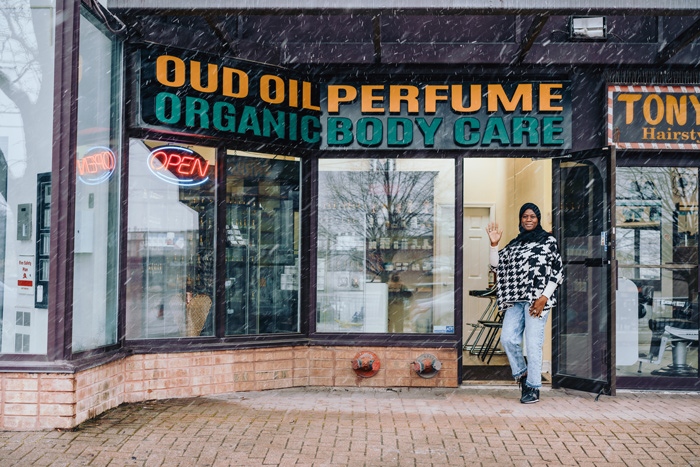 Photo by: David Simon, Sandbox Photovideo (Rakiya Muftau Abdullahi)
Being on a sidestreet, Abdullahi saw it critical to invest in signage that would draw attention to the business. With the $10,000 non-repayable contribution received through My Main Street, she purchased new LED signage and had a TV installed to show the new video and photo content she's producing to tell the brand's story. "It catches the eyes and draws a lot of attention," says Abdullahi. "It raises awareness for people who don't know about the shop."
With the funding, Abdullahi is investing in a new point-of-sale (POS) system and laptop as well as sustainable gift box packaging for the holidays ahead. All of it contributes to her goals for the business, adds Okon. "She has actually invested in a proper, functional POS system that she can manage with inventory and also have contact-less payment options with her customers which is something she didn't really have."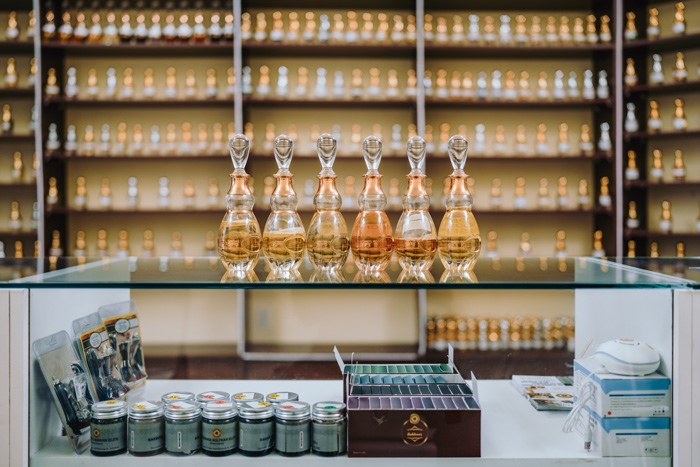 Photo by: David Simon, Sandbox Photovideo
The My Main Street Ambassador says the market research data also pointed out that 79% of people participate in a loyalty program. It's something Abdullahi sees as a valuable tool for her business like all the ideas she's gotten through My Main Street. "If it's beneficial to me, to my community, to my environment – I'm going to try it," she says. "We continue learning every day… if someone has an idea, I want them to share it with me."
Okon says the uniqueness of the business combined with Abdullahi's drive to lift up the community around her makes Ruqayya Oud Perfumes an asset for Cooksville. "She has such a personal connection with the clients that she serves," says Okon. And she suspects My Main Street will help Abdullahi grow the number of people that get to experience her uniquely personal perfume brand. "With the help of this program, she's able to actually sit down, reflect, and think about her long-term goals," says Okon. "(It'll help) her continue and diversify the ways she tells her story."
About My Main Street
My Main Street is a $23.25-million Government of Canada investment through the Federal Economic Development Agency for Southern Ontario (FedDev Ontario) to support the recovery and revitalization of main streets and local businesses in southern Ontario. The Canadian Urban Institute and the Economic Developers Council of Ontario have partnered to deliver My Main Street through two program streams. Learn more at www.mymainstreet.ca.
About FedDev Ontario
For 13 years, the Government of Canada, through FedDev Ontario, has worked to advance and diversify the southern Ontario economy through funding opportunities and business services that support innovation, growth and job creation in Canada's most populous region. The Agency has delivered impressive results, which can be seen in southern Ontario businesses that are creating innovative technologies, improving productivity, growing revenues, creating jobs, and in the economic advancement of communities across the region. Learn more about the impacts the Agency is having in southern Ontario by exploring our pivotal projects, our Southern Ontario Spotlight, and FedDev Ontario's Twitter, Facebook, Instagram and LinkedIn.