St. Thomas' Lockwood Books creates community space with My Main Street funding
---
---
There's something about great bookstores. It's a feeling without a name – an energy, really – but when you experience it, you know it, says Sarah Lynch, ambassador for the My Main Street Local Business Accelerator program in St. Thomas. And she felt that nameless feeling the first time she set foot in Lockwood Books. "It's just this amazing little shop, and you walk in and right away you just feel like this is what a bookstore should feel like."
In Lockwood Books, the selection is conventional – vintage and antique books are sold alongside gently-used beach reads and literary standouts. But it's the way the books are arranged: in stacks and lining antique shelves, bookended by oddities and vintage home items, that makes it feel so special. There's something unique everywhere you look, says Lynch. "The owner, Vanessa (Buckland) has such a beautiful vision."
Lockwood Books was spun out of Buckland and her husband Fletcher Lockwood's love of collecting antique books. As the pair's collection grew, they opened a small book and antique stand at an antique market in London. The success, combined with a move to nearby St. Thomas, prompted them to look for a more permanent brick-and-mortar location and in June 2021, they opened their shop.
When Lynch sat down with Buckland in 2022 as part of the My Main Street Local Business Accelerator program, she realized the pair had a bigger vision for the shop. She introduced them to the resources offered by the My Main Street program, which aims to revitalize business communities through hands-on support and is funded with a $23.25-million Government of Canada investment through the Federal Economic Development Agency for Southern Ontario (FedDev Ontario) and delivered by the Economic Developers Council of Ontario (EDCO), to help grow that vision.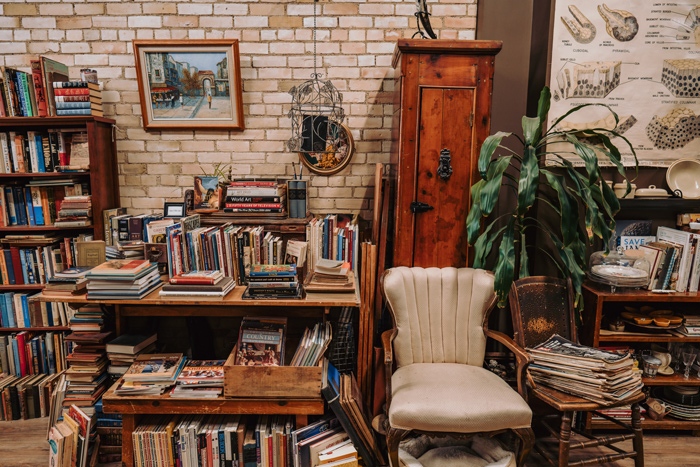 Photo by: David Simon, Sandbox Photovideo
Buckland knew right away what the business could do with the non-repayable contribution of $10,000 that the program offered. "We had been talking about the space in the back and how one day we would love to turn it into a reading garden that we can use for events and everything," explains Buckland. "Sarah said: 'I'm in love with that idea … let's make that happen.'"
With the funding and some of their own money, they converted the unused back area behind the shop into a beautiful outdoor courtyard area with seating and live-edge features. "They had some beautiful stonework done and some small decks built," explains Lynch.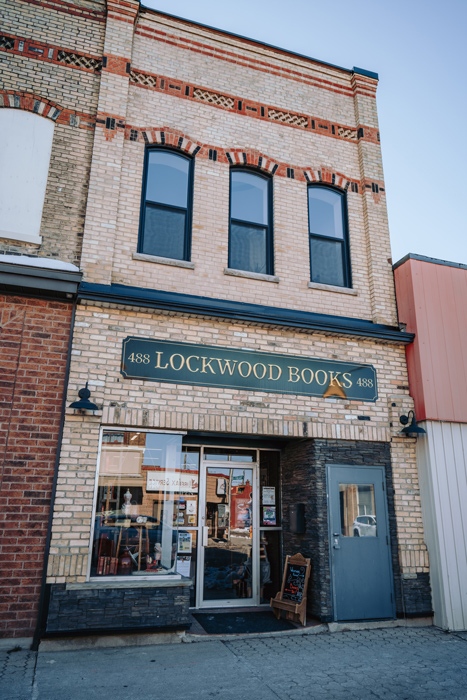 Photo by: David Simon, Sandbox Photovideo
Using My Main Street's in-depth market research on the demographics, interests and social media use in St. Thomas, the business owners identified that their target group is looking to go out and spend time with family and friends but also has a low attraction for crowds, something the backyard space helps create.
The market research also identified that their target demographic is looking for low-cost ways to socialize with others. "When we do have paid events, it's not going to be ridiculous sums of money because we are just a small bookstore," says Buckland. Figures showing the average spend on things like food and alcohol also nod to the potential for special events and collaborations with local restaurants.
Buckland says she still can't believe the space is ready. "It went from something that was maybe three-to-five years down the road to being done," she says. "It's crazy."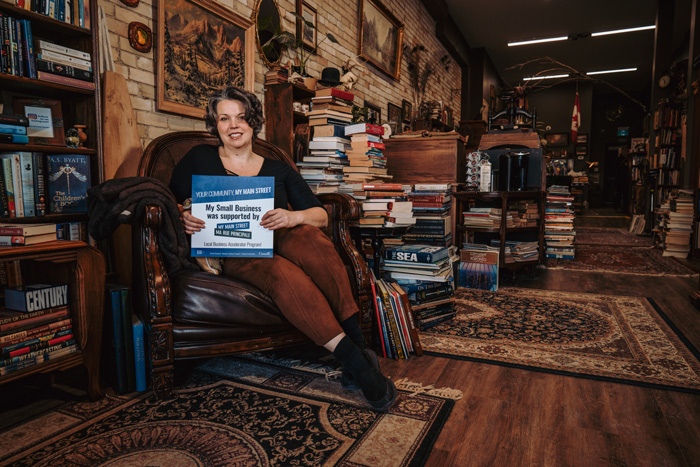 Photo by: David Simon, Sandbox Photovideo (Vanessa Buckland)
In spring/summer 2023, Talbot Street, the main artery in St. Thomas where Lockwood Books is located, will undergo some major construction. "We may end up using our back space as the main entrance to the bookstore while construction's happening," she says, adding that the reading garden is a perfect introduction to the shop. "We have so many plans for it."
About My Main Street
My Main Street is a $23.25-million Government of Canada investment through the Federal Economic Development Agency for Southern Ontario (FedDev Ontario) to support the recovery and revitalization of main streets and local businesses in southern Ontario. The Canadian Urban Institute and the Economic Developers Council of Ontario have partnered to deliver My Main Street through two program streams. Learn more at www.mymainstreet.ca.
About FedDev Ontario
For 13 years, the Government of Canada, through FedDev Ontario, has worked to advance and diversify the southern Ontario economy through funding opportunities and business services that support innovation, growth and job creation in Canada's most populous region. The Agency has delivered impressive results, which can be seen in southern Ontario businesses that are creating innovative technologies, improving productivity, growing revenues, creating jobs, and in the economic advancement of communities across the region. Learn more about the impacts the Agency is having in southern Ontario by exploring our pivotal projects, our Southern Ontario Spotlight, and FedDev Ontario's Twitter, Facebook, Instagram and LinkedIn.